Assalamualaikum WRT WBT
The past couple of days have been historical -- either it be because of the after effects of the weekend event, or just in my own life.
At the moment, I am in Penang - The Pearl of the Orient. Thats what the huge sign in the middle of the roundabout said anyway. I wonder why it is called that. Anyone from the north reading this? Care to explain? Please do. Im too tired and lazy to find out for myself. EVEN THOUGH its just a type and click away. I 'think' Ive only been to Penang 3 times throughout my life.
Well, thats as far as I can remember. My recollection of visits to Penang include a swimming pool treat, and stopping at a huge white bridge. I dont know when this was, but Mak did say it was during AyahCik's wedding. Which was what... 22 years ago?
The other time I came to Penang was with the UNIKL Student Council. I had a council meeting at the Malaysian Spanish Institute, and they brought us for a night drive to Batu Feringgi. I think. I dont really remember and I remember not being able to appreciate the scenery bcos it was too dark.
But we did get to ride the ferry from the mainland. THAT I remember bcoz I was so jakon. Haha. On the way back, someone else drove coz I had a headache, so again, the opportunity to 'see' Penang was lost. But I do remember it having lots of clubs and pubs. Pity ey
Anyhow, Im writing this post from my hotel bed -- Equatorial Hotel mind you! A lovely hotel on a hill, with beautiful scenery. I can see the bridge from the balcony of my room.
Im in Penang bcoz my supervisor and I have an interview at Intel. We're requesting a grant for research, which ofkos is my PhD research. Other than asking for the grant money, this visit was also an initiative to meet up with those responsible in allowing me access to the Intel employees. Yup, I need access so that I'll be able to conduct my research, collect data and proceed with my studies.
I had my fast track evaluation last week -- alhamdulillah I passed. That was terrifying I tell you! I'll do another post on that later. So the preparation for this interview wasnt as hard as the evaluation. All I needed to do was edit here and there to meet the needs of the company and refresh what Ive been working hard on for the past month. Lagipun, it wasnt as scary bcoz my supervisor was going to be there with me. So if I stumbled on something, she'd be there to back me up! Haha.
It was very exciting to walk into the doors of a widely known industry. A label we'll see every time we open a laptop. Their sticker greeting you right in the face. Even though I admit that I dont really know that much about Intel's products with the exception of computer chips, but bcoz of the prestigious brand, walking thru the white corridors of their administration building gives you this wonderful fuzzy feeling. The feeling of pride, honour and just plain accomplishment. EVEN when all I did was go in. Haha. Does anyone understand what Im talking about?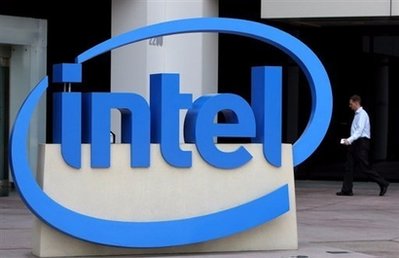 The interview lasted for about an hour and a half. And from the feedback they gave, it looks positive :) You dont know how wide Im smiling. Even my supervisor is super excited! Haha.
InsyaAllah I'll be coming back here over the next two years. Even if the grant application isnt approved, I'll still have to come here for my research, to collect data, observe their training and so on. Can't wait! Hehehhe..! Its SO exciting! Don't you think?
Our flight back to KL is at 3.25p.m. So we'e back in our hotel room to hang out. And before you ask, the answer is yes. Yes, I am sharing a room with my supervisor. At first I thought it would be super awkward. And at first it WAS! Haha, I didnt know what to talk about. But since my supervisor is extra friendly, it eventually became easy. No more awkward silences, more of comfortable silences =)
She did ask me if we wanted to go jalan, bcoz she knows her way around Penang. But since it's been raining since morning, I declined. I'm sure I'll find the time to jalan-jalan the next time Im in Penang. In fact, boleh bawak the whole family! Maak!! JOM! Hehehhe..
Its a good thing I recorded the interview session, bcoz I received a lot of input, but didnt have enough time to write it all down. So when I get back to JB, I'll insyaAllah straight away get to work. I need to further detail this proposal and resubmit it to Intel for their final approval. InsyaAllah all will go well.
I need to go to work A.S.A.P. If not, this high motivation level I am experiencing will fade away.
But I will confess something. This trip to Penang and Intel made the whole situation with my research a little more serious, and a little more REAL.
Pray for me!