A week after my exams, the Student Affairs Manager (Ms Put) called me up to say that the Student Council need to go to an important dinner. I've learned long ago to expect the unexpected from UNIKL. Hahaha.. anyway, since the holidays have started, some of the SRC had already gone home so there were just a few left. I went of course.. =P
Anyhow, the dinner I'm talking about on 7th December is called "Majlis Mesra AidilFitri bersama Pemimpin Perwakilan Pelajar anjuran Jabatan Penerangan Malaysia". Since our president didnt attend this gala event, I got the shock of my life when the organisers wanted me to sit at the VIP table to represent UNIKL. Oh my God! You'd never believe how shocked I was.
Till today, I still dont believe that I sat with all the presidents of the universities in Lembah Klang. It was such an honour. The presidents that were there were from UM, UIA, UiTM, UniSeL, UTM KL, IMU and UKM. I am alhamdulillah in good terms with the representative from UM and UTM. Like I said, such an honour.
Now, I actually feel pitty to all the people who used to think I was a nobody. Huh! Serves you right! I even met with the president from YOUR university, so dont judge a person just because you think you know them. You dont.
Being in UNIKL has taught me a lot. New experiences, new and true good friends, and just a whole lot of wonderful memories. I can truely assure you that I have not regretted my decision to come here till this day forward. Never.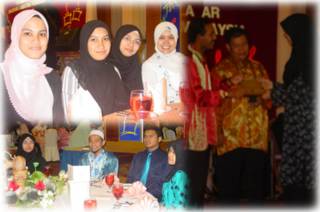 A wonderful dinner with the Jabatan Penerangan Malaysia

Top left pic: Me with my friends (Diana, Kak Lydia, Me and Qauthar)
Bottom left pic: Me sitting at the VIP table with the representatives from UTM, IMU and UM.
Right pic: Me getting a token of appreciation from the Jabatan Penerangan Malaysia
Like I said, a wonderful dinner I'll never forget =)